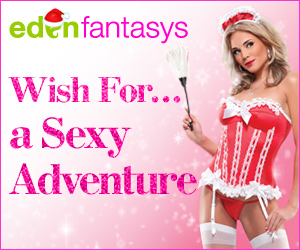 Thanksgiving is this Thursday which means that the holiday shopping season has began. Christmastime is suppose to be a wonderful jolly time, but let's be honest, the holidays can be stressful on a person. There is the gift shopping, which involves going into an overcrowded department store and wait for an hour to checkout. Dragging out the decorations use to be fun when you were young, but nowadays it can be dreadful carrying down the fake Christmas tree from the attic along with the ornaments and everything else. By the time you finish decorating the outside of the house with bright twinkling lights, the holidays are over and it is time to start the New Year.
Wouldn't be nice to take some time for yourself and make your life a little less stressful?
Edenfantasys
is an adult website that carries many toys for couples and singles, lingerie, beauty and bath products, and adult books. Anything you buy is sent discretely to your home, safe and secure. You're already buying gifts for your loved ones. I think it is time buy something to make you more relaxed for the holidays.
Here are a few gift ideas for yourself:
Men:
Cobra Libre
Duke Prostate Massager
Spread Eagle Sally
Women:
G4 Tiger
LAYspot
Eroscillator 2 Top Deluxe
Couples:
We-Vibe Thrill
Indulge Me Pleasure Kit
The Perfect Diamond Princess
I received a gift card in exchange for this review as part of the Eden Loves Bloggers program.