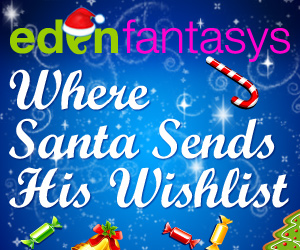 Over the past year, I have had the chance to review many great books, movies, and products. I have also been part of several blogger programs, including the one one from EdenFantasys. I try to keep my blog at a PG-13 level, but I do occasionally write up a post about EdenFantasys (an adult shopping site) in exchange for gift cards.
Since it is Christmas, I want to give away four $30 EdenFantasys gift card codes to one lucky winner for a total of $120!
EdenFantasys doesn't just carry adult toys, etc, but it has a great line of beauty products, adult books, and other items that can make a great gift for your spouse or partner.