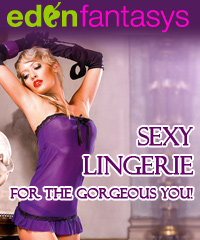 Great news!
EdenFantasys
have brought back their Eden Loves Bloggers Program, in which bloggers can receive a gift certificate ($25 to $50) via email for posting an honest post about EdenFantasys. You can post a product review, a sale post, or anything you can think of as long as it is at least two hundred words or more.
After glancing around the site, I noticed that EdenFantasys already has a few Halloween products up for women. I know Halloween is over two months away, but there is no better time to plan ahead. Some of the adult Halloween costumes are
Alice
(You know, Alice in Wonderland), Army Girl, Police Girl, Night Nurse, Racer Dress (for you Nascar fans), Seductive School Girl,
Heart Nurse with Stethoscope
, French Maid Babydoll, Corrections Officer, Medical Mary Jane, Night School, and the classic Maid for Fun Costume. These are great outfits for a Halloween Party, or if you just want to spice things up in the bedroom.
Today is a great time to go ahead and order your costume before Halloween. If you wait and try to buy something in a discount store, the chances are you won't be able to find the right size or they won't carry the costume that you are looking for. EdenFantasys is currently having a site-wide sale where you can save 20% buy using the coupon code
PLAY20.
It's a great chance to get your costume early and save a few bucks!