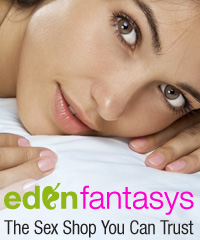 EdenFantasys is having a a great Labor Day sale going on right now! The sale ends tomorrow!
Here are a few coupon codes you can use to save lots of money! But remember it ends August 31st!
ROMANCE15 - save 15% on your order
ROMANCE20 - save 20% on orders of $50+
ROMANCE25 - save 25% on orders of $100+
ROMANCE30 - save 30% on orders of $150+
You can also save up to
70% off
on nearly 1,000 products, ranging from bras, sexy lingerie, dresses, a variety of adult toys for men, women and couples, lubes, and gag gifts. There are even Halloween costumes (or you can wear them in the bedroom) on sale staring at 25% off , such as
Football Player female,
Purple soda pop girl costume
, Candy Stripper Babydoll, and a Female Firefighter.
Remember to connect with EdenFantasys' Facebook page to get even more deals such as up to
70% on chocolate treats.
I'm excited to be a part of the EdenFantasys bloggers program! In which bloggers can receive a gift card code for writing an honest review, article, or anything that comes to the bloggers mind. I like to keep this blog PG-13, so take notice that some of the links are for adult's only!